MTSU Film and Photo Students featured at ARTLightenment Art and Film Festival
Artlightenment is an annual Art Show and Film Festival which showcases visual artists, painters, sculptors and filmmakers. Created by painter and film producer, Robyn Morshead in 2009, this week long event is held at the Celebrity Center (Old Fall School Building), in Nashville, TN and also features workshops, live music and a fashion show, making this event a vital force in Nashville's creative community.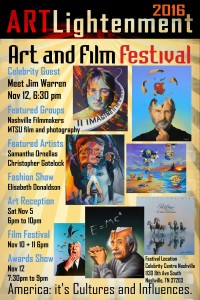 Make sure to come out Thursday November 10 thru Saturday November 12 to show support for the MTSU Film and Photography students that will be featured at the festival. Tickets are only $10 for the week and this includes access to all exhibits, film screenings, fashion show, workshops and more.
For more information about the festival, the event schedule, and to buy tickets visit the Artlightenment Webpage.