EMC Friday Forum: Matthew Pessoni discusses Nashville Production
Video production entrepreneur and EMC alumnus Matt Pessoni is this week's featured guest at the EMC Friday Forum to talk about the production industry in Nashville and what it takes to make it in the industry. Matt and his twin brother Scott had the inspiration and ambition to blaze their own path to success and create their own production company, Gemini Production Group, a Nashville based production agency that has won Emmy, Telly, and Communicator Awards for their work.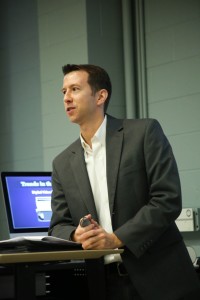 Don't miss out on this special opportunity to get the inside scoop on the current climate of the production industry, the exciting things happening in Nashville, and how you can get involved in this fast paced industry.
1:00 Friday, April 14 in Bragg 103