Curriculum
Here are three handy ways to get familiar with graduation requirements for each of the five programs in EMC (Electronic Media Communication).
Online Catalog 2017-18
This is the official guide to graduation. It's all right here.
Academic Maps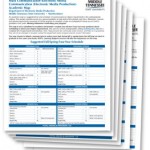 Academic Maps are one-page summaries of requirements for each major. View online or print out the PDFs as handy guides.
Academic BluePrints
These interactive guides provide timelines loaded with details and tips to help students graduate in four years. Academic BluePrints were developed in the Media Arts Department and you can only find them here. Just another example of the innovation coming from our department!